Welcome to the Land of Junganew!
A Fun Speech Therapy Adventure
Junganew is a story based adventure that creates an experience for children to learn their sounds. Featured sounds include "S", "TH", "F", "R", and "L". The complementing sound of "S" is now in the App Store! Downloaded in 12 different countries.
Get the App
Get the Book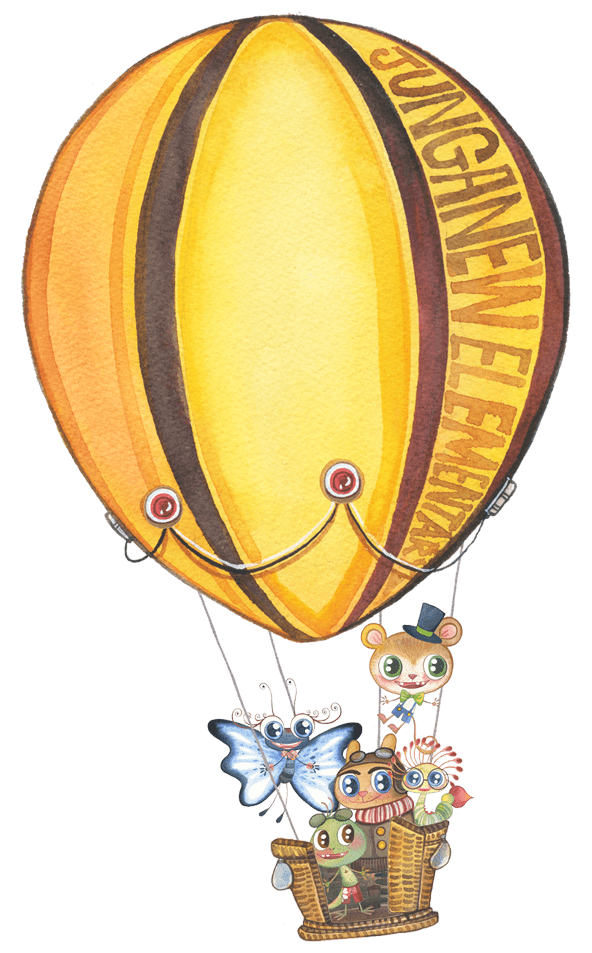 A veritable visual and auditory wonderland.

Close your teeth and smile!
This app is so creative, and uses engaging and charming exercises to isolate the S sound at the beginning, middle, and ends of words. The "show and tell" song is curiously catchy…even for adults. There are exercises that also engage the young mind in ways that affect speech, such as tracing with both hands. Many subtle details make this a thoughtful app!

Engaging!
This beautifully created app left my 7 year old daughter wanting to play for hours! The characters are adorable and live in a land of their own. The journey Theo makes throughout the app teaches the placement of /s/ in all parts of the word. Would recommend to others.

A+ for classroom use!
This app is a must have for the classroom. Students quickly pickup on how to navigate and begin sounding letters correctly, even faster!!

This is one well-crafted app, and one that will surely enhance any Speech practice or classroom.

Fantastic tool for classrooms!
This app is perfect for children struggling with their speech. It is entertaining and offers a variety of ways for children to learn sounds amongst other important skills. As a teacher who uses it in her classroom, I highly recommend this app not only for children with speech issues, but for any child looking for a fun, safe, educational game.

This app is SPECATCULAR!!!!!!
Everyone spread the word about this creative new app that tells a story while our young kids learn their sounds! It is so helpful! The characters are unique and the concept is wonderful! Check out junganew on social media and you will fall in love with Theo and his friends. Get this must buy app!

Adorable
Enjoyed playing this app with my children. My daughter is having some problems with speech and really had a great time with Theo's antIcs.

Fun and Creative
As owners of a pre-school we are constantly on the lookout for new tools to engage our students. Junganew is a fun and creative way for kids to explore the world of sounds. The storyline and graphics are engaging and there are highly interactive elements to help facilitate learning. Junganew explores the "S" sound in-depth and Theo is there the whole way to guide you through. Highly recommended!

Great app! The story is engaging for little kids to learn the sound of /s/ in all positions of the word. It even includes s blends. My students love the "mirror" for visual and auditory feedback. Love that there are different activities which include language to elicit words with target sounds. Great addition to my articulation app library.

A winner for children
Great new app for young children. Perfect learning tool while having fun. Highly recommend this.


A veritable visual and auditory wonderland.

This is a great book for elementary students developing and refining their speech sounds! The characters and illustrations are inviting, fresh and unique! The stories are arranged in a very useful format – ideal for a school setting or practice at home.

"Junganew" is a unique speech therapy resource for parents and professionals. Ms. Giordano has combined whimsical characters into stories with engaging artwork that will hold a child's attention as they practice target speech sounds, either during therapy sessions or at home for carryover and integration of new skills. "Junganew" begins with some gross motor movement exercises as a warm-up, and then rolls into stories that contain sound stimulation opportunities at the syllable, word and sentence level. She even includes characters that need help with new sounds, which provides the reader and child an opportunity to hear the substitutions (error sounds) and then the space for practice of the target sound. A wonderful addition to any library!

This is one well-crafted app, and one that will surely enhance any Speech practice or classroom.

Adorable book with the cutest characters, colorful engaging photos and fun storyline! Fantastic interactive practice for speech sounds. Would be an excellent resource for speech therapy and early childhood classrooms. Great addition to any child's library.

This book is a great joy to my grandson…it is thoughtful, well written, & the characters are just so colorful & cute, they literally jump off the page! This is a great gift to all the little ones in your life, I ordered three more as gifts! Bravo to Junganew! Can't wait to see what comes next!

Kids, parents, and teachers will get a lot from this book. I love the fun animals, songs, and read along sections that facilitate the making of sounds and speech development…

I really enjoyed reading this book with my students. I teach reading to small groups and this helped do much with our word work. Highly recommend ?

The whimsical characters in Junganew, A Herd of Sounds, help engage the students and keep them interested while learning the proper way to pronounce certain sounds. It is fun and educational at the same time.

Beautifully written with colorful fun illustrations. A "must have" in any therapists bag of tricks. Great way for parents to aid in their child's development while having fun!